John Mwaniki /   09 Sep 2021
How to check your website traffic in cPanel
In this article, I will take you through the process of checking your website traffic in your web hosting account cPanel.
What is Website Traffic?
Website traffic is the number of visitors coming to a website.
It has always been the goal of every website owner to have as many people as possible visiting their website. With huge traffic comes more brand awareness, business leads, and more sales.
With traffic being an important factor, it is therefore very important for any website owner to keep track and know exactly how many visitors their websites receive.
There are a number of ways that one can achieve this such as by integrating analytics applications such as Google Analytics on the website or by using the Awstats analytics application that comes packaged in cPanel for your hosting account.
In this article, we pay attention to doing it via the cPanel Awstats.
Awstats is an open-source Web analytics reporting tool, suitable for analyzing data from Internet services such as web, streaming media, mail, and FTP servers. AWStats parses and analyzes server log files, producing HTML reports.
How to check website traffic with Awstats in cPanel
Follow the step-by-step guide below:
Step 1: Log in to the cPanel
Step 2: Click on "Awstats" under the Metrics section.

Step 3: Select the domain name or subdomain in which you want to check traffic from the list and click "View" on its right.

If you have an SSL certificate installed as in our example, you will see two options: The domain with SSL(HTTPS) and the one without(HTTP).
We have enforced redirecting all website visitors to the HTTPS version and so we don't expect to have a second one(without SSL). So we just click on "View" for the first option.
You will be redirected to a page that shows you different metrics for your website traffic as shown below.
Awstats important terminologies
Below are some of the most common Awstats terminologies you will come across when viewing various reports.
Unique Visitors
This is the unique number of visitors that have come to your website during the current period shown by the report. If this user makes several visits during this period, it is counted only once.
Visitors are tracked by IP address, so if multiple visitors use the same IP address to access the website, they will be counted as just one unique visitor.
Number of Visits
This is the total number of website visits made by all unique visitors.
Every time a person visits your website, it is counted as a visit. However, a visit can be compared to a session lasting for one hour. A single person can visit your website then end up navigating to 3 pages on your website. This will be counted as one visit but with 3 page views.
If a visitor spends more than one hour on the website, then it can be counted as several visits depending on the duration with each lasting for one hour.
Pages
The number of "pages" viewed by visitors. Pages are usually HTML, PHP, ASP, JSP, or Python files, not images or other files requested within the page(eg. js,css... files).
Hits
A total number of requests for resources(eg. pages, js, css, images, etc) from the server.
Bandwidth
The total amount of bandwidth consumed serving all of the website requests.
Awstats Reports
The Awstats statistics is divided into different reports such as summary, monthly history, days of the month, days of the week, hours, etc.
Summary
Awstats summary gives you a nice overview of all the important metrics within the specified duration.

The period shown by Awstats reports is by default the current month. You can show a different duration by selecting a different month or year in the "Reported period:", then click OK button.
Monthly History
This report allows you to track how your traffic is trending on a monthly basis.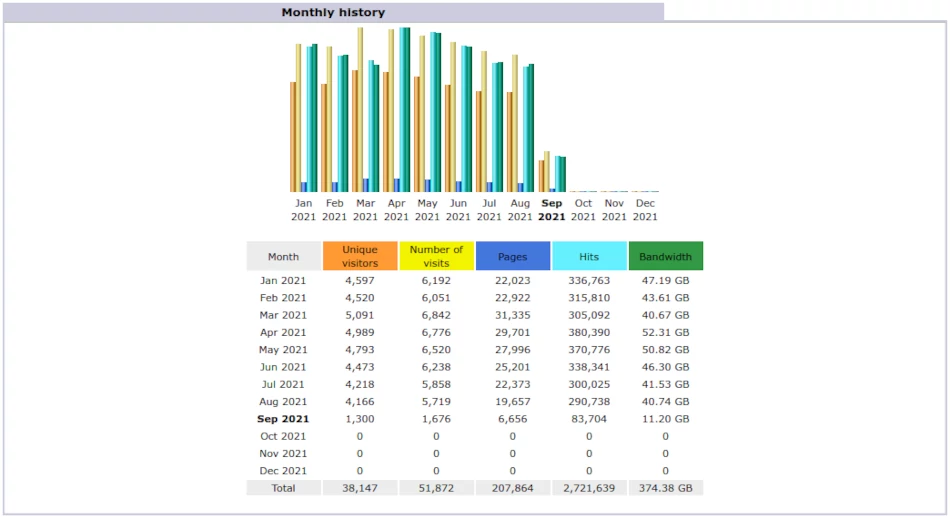 Days of Month
This report lets you easily track your website traffic on a daily basis. With this, you will be able to know which days performed the best and the worst.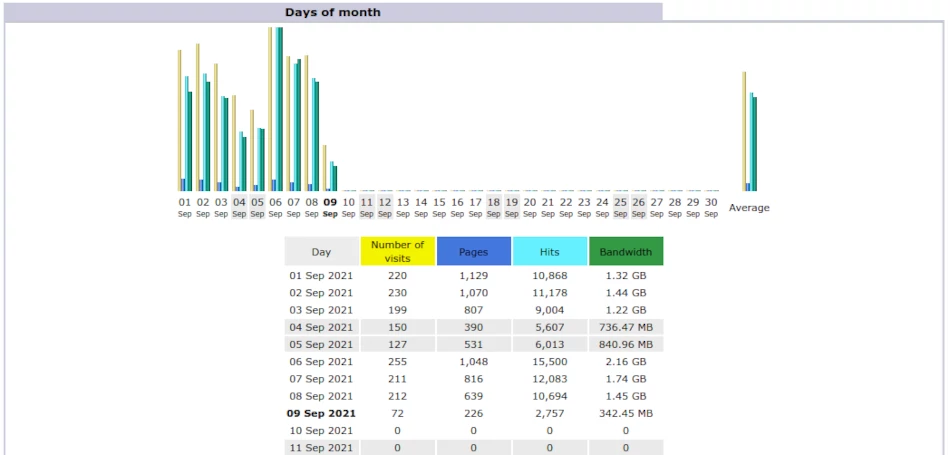 Days of Week
This report shows your website traffic performance for different days of the week.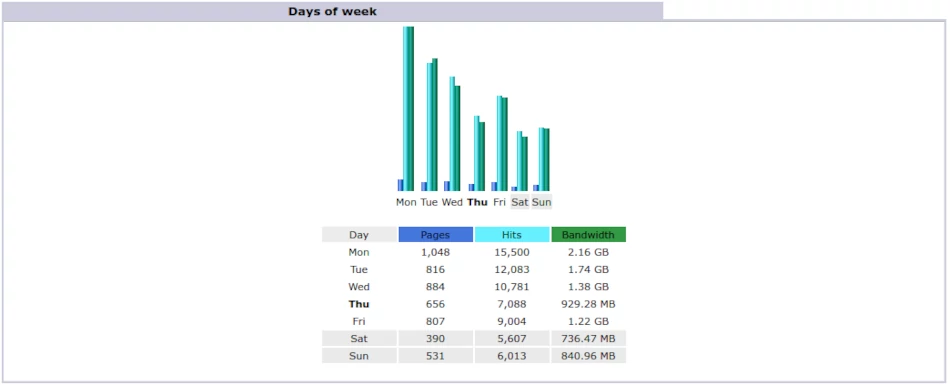 Hours
This report gives you a nice view of which hours during the day your site gets the most hits.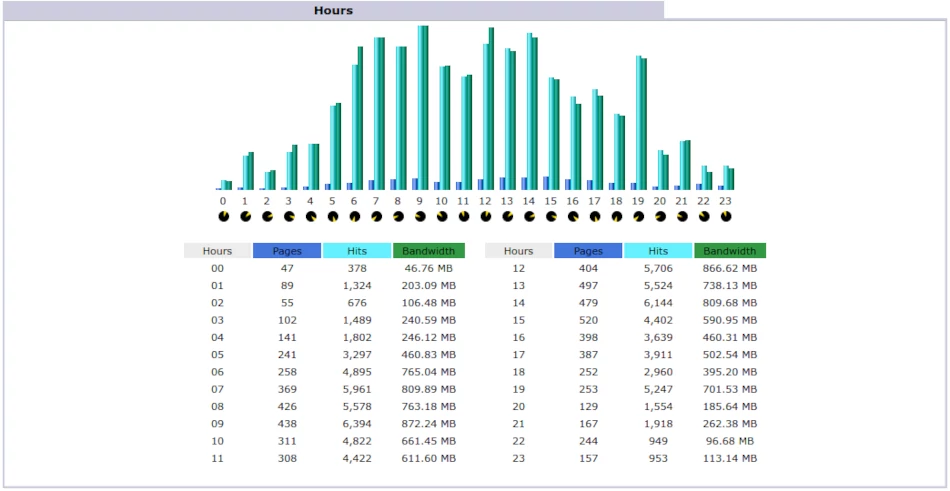 Countries/Locales
This report lets you see what region of the world your visitors are coming from.
Hosts
This report shows the top IP addresses that have been visiting your website.
Robots / Spiders
This report shows the non-human visits from search engines and other automated sources.
Visits duration
This report shows the time your website visitors spend on your website per visit.
File Type
This report allows you to easily see what type of files are requested from the server most often.
Pages-URL
This report shows what pages are being requested/visited the most.
Operating-Systems
This report helps you know what operating systems your visitors are using when accessing your website.
Browsers
This report shows which web browsers your site is being viewed with.
HTTP status codes
This report lets you know which errors your website visitors are experiencing errors on your website.
Conclusion
Having a lot of traffic on the website is the goal of every website owner. With traffic being a very important factor for any website success, it is therefore very important for any website owner to keep track and know exactly how many visitors their websites receive.
In this article, you have learned how to check how much traffic your website receives for a specific duration through the open-source web analytics software, Awstats that comes packaged in web hosting cPanel.