John Mwaniki /   23 Dec 2021
How to create email forwarders in cPanel
One main and important feature that comes with owning a domain name and a hosting account is being able to create your custom domain emails. They make your business look more professional and serious.
While some hosts set a limited number of email accounts you can create, the majority of hosts will allow you to create as many emails as you wish. You can create emails such as john.doe@example.com, info@example.com, sales@example.com, support@example.com, etc, where example.com is your domain name.
You can do all that by yourself through your web hosting cPanel account in a matter of minutes.
When the number of email accounts increases and you happen to be managing a number of them all by yourself, it can become tedious to keep switching between them in order to check newly received emails.
To overcome these back and forth processes, you can forward copies of all the received emails from one email account to another. This way, you will only have to check one email account to view all the received emails.
Let's say for instance you have 3 email accounts: info@yourdomain.com, admin@yourdomain.com, and support@yourdomain.com. Instead of opening 3 mailboxes to check emails, you can forward the last two to info@yourdomain.com. Now you will only have to open info@yourdomain.com to view all the emails sent to the 3 accounts.
It is also possible to forward all the received emails of your domain to another domain.
Creating an Email Forwarder in cPanel
Log in to the cPanel account.
Click on the "Forwarders" link under the Email section.
There are two types of forwarders available, first to forward an email account to another one. The second is to forward all emails to a domain.
Creating an Email Account Forwarder
Click on the "Add Forwarder" button, it will take you to a similar interface like this: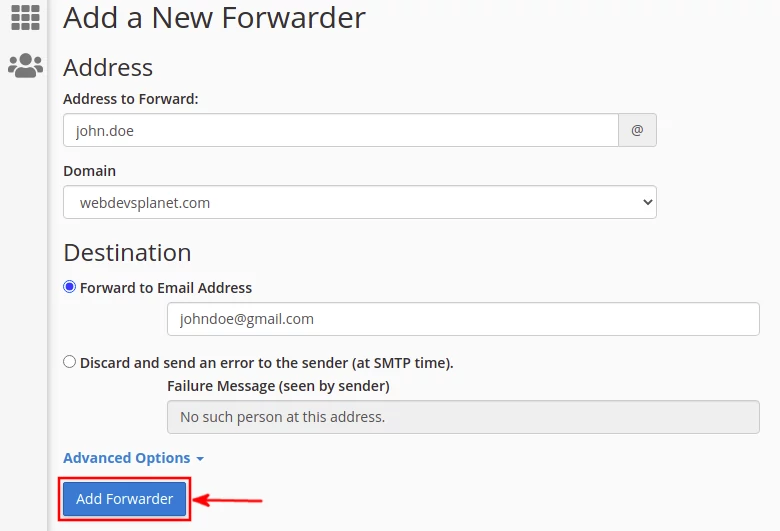 Enter the address of the email from which you want to forward from. It is not necessary that the email must be already created. If you do not create an email and forward it somewhere, the only difference will be that your emails will not be stored in the mailbox of the original email, because that mailbox will not exist.
Select "Forward to Email Address" and enter an existing email in the field, where you want your emails to be forwarded.
If you want to discard the email message and supply a failure message to the sender, select "Discard and send an error to sender". You can also customize the Failure message, enter the message in the textbox.
Creating a Domain Forwarder
While on the Forwarders page, click on the "Add Domain Forwarder" button.
Select the domain you want to forward emails to.
In the field next to your domain, enter the domain to which you want the emails to be forwarded to.
Click on the "Add Domain Forwarder" button to save the changes.
To delete an email forwarder, click on the delete link under the "Actions" column on the forwarder you want to delete.